Today, we have an unprecedented (there is that word again…) opportunity to hone our virtual team leadership and team skills courtesy of a pandemic. With no lunchrooms or hallways for informal conversations and no way to pop into someone's office to ask a question about a shared project, working remotely requires another level of intention and commitment to collaboration, communication, and team dynamics. If you think about it, we're in the middle of a massive unplanned change initiative that has upended our work (and personal) lives!
Think about a time your organization tackled a new initiative. Did everyone understand the purpose for the initiative? Was the organization prepared to perform new tasks or the same tasks in a new way? Did everyone receive regular, clear communications throughout the change project?
Change initiatives can be challenging no matter how your team is structured or how ready your organization is to embrace change. With remote teams, you have fewer formal and informal communication channels than co-located teams. A key challenge in a remote team environment is to communicate effectively. Use each communication event – meetings, emails, phone calls, collaboration platforms, and file sharing tools – to lead your remote team through the change process.
I have found that Peter Senge's, The Fifth Discipline, is a great resource when leading change initiatives. In his book, Senge describes the concept of a learning organization as one that is skilled at identifying and acquiring new knowledge and is open to, and fueled by, new ideas. These new ideas drive innovation and help organizations remain flexible and responsive in the marketplace. His learning organization concept can be used to streamline your organization's communication in a remote team environment to drive desired behaviors and outcomes during a change initiative.
Senge describes four organizational disciplines – shared vision, mental models, team learning and personal mastery – that are tied together by the fifth discipline – systems thinking, all illustrated below. Systems thinking is both a mindset and set of tools that leverages how people, organizations, vision, and learning interact together. Leading with these five disciplines in mind can be instrumental in the effectiveness of your available channels of communication and your change outcomes.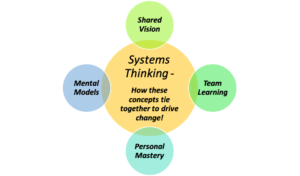 Successful change initiatives – whether with co-located or remote teams – require an understanding of the change process, consistent leadership, and a concerted effort to identify and use all available communication opportunities effectively.
The Fifth Discipline and The Fifth Discipline Workbook go into the details and include practices for a wide range of organizational needs. In Part 2 coming next month, we will consider how this model compliments leading change in remote teams and specifically within remote team communication channels.