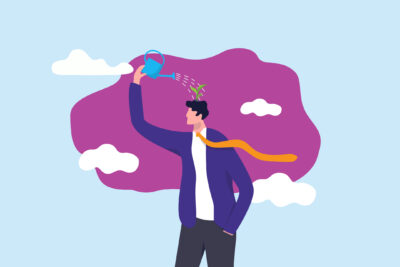 Businesses must be in a constant state of transformation to keep up with today's technology. At Evolve, we're virtual and fully remote by design, which means we've always been supported by technology and our digital presence. To make technology an enabler, our team must have a change mindset and be open to continuously learning in order to embrace and keep pace with this constant change.
According to Forbes, 70% of change initiatives do not reach their goals due to an absence of a learning and change mindset. Transformation has a way of magnifying the flaws that cannot be fixed with a band aid. For this reason, it is helpful to think of transformation as an outcome to successful learning and change initiatives.
Common goals for any type of change typically include improving efficiency, increasing customer and employee engagement, reducing costs, and increasing revenues. More than ever, companies are focusing their efforts on a holistic learning and change approach to help them move the needle and increase initiative success.
By looking at the people, processes, and technologies that comprise an organization and strategizing a blended learning approach, there are opportunities for increased engagement and retention, saving organizations time and money.
To undergo successful transformation there has to be:
A learning culture
Program and change management ready to support the change
Regular and clear communication
Stakeholder buy-in and employee engagement
Optimization of technology and processes
Transformation at its core must change the way in which we do something (changing mindsets) while also developing the organization with the skills and information they need to be effective (building skill sets). In order for change initiatives to be successful we must look at every initiative with a learning and change mindset. We need to build skill sets and change mindsets for transformational change to be successful.
Consider the below when planning your transformation initiative:
Be needs-driven. Tools and technology are meant to support and enable change. Make sure you have supporting technology, infrastructure, and clear definition of the need before getting started.
Align the organization to the change. Remember that 70% of transformation initiatives fail without change management.
Be "customer-obsessed." Do everything with your customer in mind. All your initiatives should have your customer's needs at the forefront.

Keep in mind, an employee may be considered a customer,  a partner may become an employee, a customer or a vendor may become a partner.
It is just as important to serve your employees as it is to serve your customers, partners, and vendors.
Download our eBook for practical organizational change management to understand the steps that go into tactically and practically executing change and see how to use a people-centered approach to shift mindsets and build the skills necessary for people to embrace change.
Outcomes of transformation
Organizations that change mindsets and build skill sets can successfully implement initiatives by establishing a learning culture and identifying where and when digital tools will be the most beneficial. When you are able to meet your learners at their point of need, there will be less resistance, which will lead to saving money, growing sales, and increasing customer satisfaction. "Changing Mindsets and Building Skills" will define change management and show different tools and templates we use to guide organizations through their most critical change initiatives.
Still want to learn more? We can help you in this process. Schedule a consultation today to get started.